Whooping cranes are currently listed as endangered under the revised IUNC Red List Categories. The U.S. Endangered Species Act and the Committee on the Status of Endangered Wildlife in Canada also have the whooping crane classified as endangered.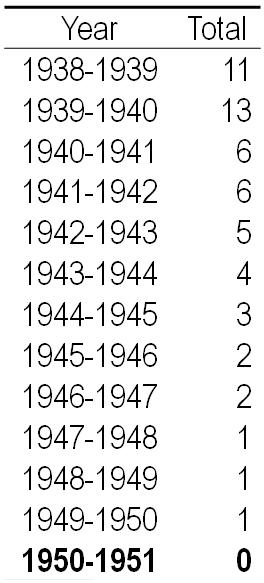 In the mid-1800's, the whooping crane population was approximately 1300. Habitat loss and hunting devastated this population so that by 1937, only two small breeding populations survived: a non-migratory group of about 10 to 15 birds in Louisiana and a flock of 18 birds that migrated between Canada and Texas (Drewen et al., 2001). Half of the birds in Louisiana were killed by a hurricane in 1940 (Table 1) and the last few were taken into captivity (Cannon, 1996). In 1941, the total world population of whooping cranes dropped to 22 birds (Figure 4); thus suffering from a severe population bottleneck (Glenn et al., 1999). The whooping crane was listed as threatened with extinction by the U.S. congress in 1967, and then down-listed shortly after to endangered status in 1970. Figure 5 shows the number of nesting pairs in the Canada-Texas migratory population. Since 1970, the number of known nesting pairs in the Canada-Texas migratory population has steadily increased from ten pairs to 58 pair in 2005, consequently increasing the population from 56 individuals in 1970 to 210 in 2005 (Figure 5) (USFWS, 2007).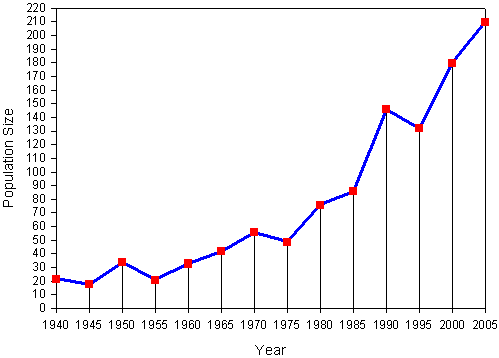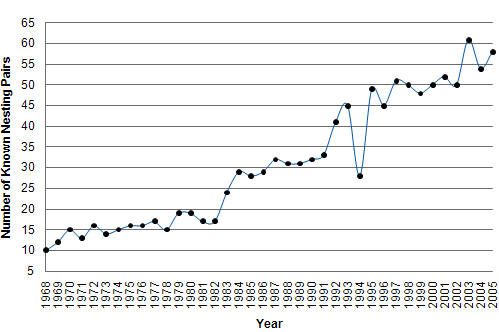 An effort to establish a second population of non-migratory whooping cranes began in Florida in 1993 (see Conservation). Since its initiation, the Florida flock has grown to 59 birds (Figure 6). Likewise, a third project which introduced an Eastern migratory population in 2001 now migrates between Wisconsin and Florida (see Conservation) and has steadily increased to 88 birds (Figure 6). Currently, the total number of whooping cranes in all three populations is 377 and 146 in captivity. Once 250 nesting pairs are reached, the population should start to gain genetic variation faster than the population loses genetic material (USFWS, 2007).