Background Information
Entecavir (ETV) is an FDA approved medicine used to treat chronic hepatitis B virus infection in adults who have active liver damage.
ETV belongs to the nucleoside analogue reverse transcriptase inhibitor class of drugs and is sold under the brand name Baraclude. It is a product of Bristol-Myers Squibb Pharmaceutical Research Institute.
ETV is not a cure for hepatitis B; however, using it may lower the amount of hepatitis B virus in the body, lower the viruses ability to multiply and infect neighbouring hepatocytes, and improve the overall condition of one's liver (7).
Recently, many major research study have shown that ETV, a cyclopentyl guanosine nucleoside analogue, behaves far differently than most nucleoside reverse transcriptase inhibitors approved for hepatitis B virus therapy in its class, namely lamivudine (LVD) and adefovir (ADV), in several ways:
ETV is more than 100-fold more potent against the hepatitis B virus in vitro(Table 1) (8).
ETV displays no significant activity counteracting HIV. In contrast, LVD is an analogue of cytosine while ADV is an analogue of adenine; both drugs can also select for HIV infected cells (9).
Finally, LVD and ADV are both obligate terminators of DNA chain elongation – meaning they lack a 3' hydroxyl required for nucleotide addition. On the contrary, ETV halts DNA elongation after incorporating a few additional bases (9).

Chemical Data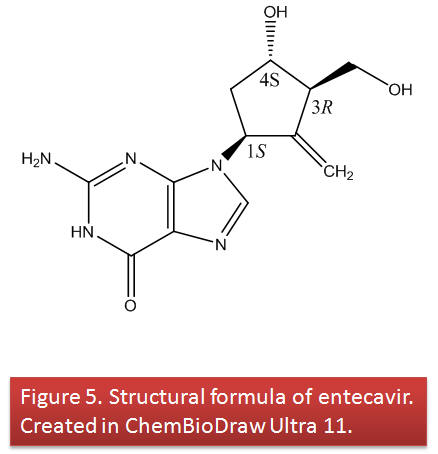 The chemical name for ETV is 2-amino-1,9-dihydro-9-[(1S,3R,4S)-4-hydroxy-3-(hydroxymethyl)-2-methylenecyclopentyl]-6H-purin-6-one (7).
Its molecular formula is C12H15N5O3 which corresponds to a molecular weight of 277.12 g/mol.
ETV is a white to off-white powder. It is slightly soluble in water (2.4 mg/mL), and the pH of the saturated solution in water is 7.9 at 25°C ± 0.5°C.
ETV is administered orally in tablet form. It is available in strengths of 0.5 mg and 1 mg.