Small, dense LDL has several characteristics that are linked to atherogenesis (plaque in the inner lining of arteries) [6]: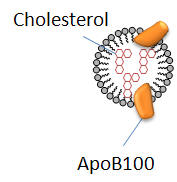 Long residence time in plasma
Enhanced oxidizability
Arterial proteoglycan binding [binds to protein-sugar molecules in the arteries]
Permeability through the endothelial barrier
The only protein associated with LDL is ApoB100; LDL's do not possess ApoC or ApoE. 
ApoC and ApoE are required for the lipoprotein to be taken up by the adipocytes and hepatocytes. ApoB100 can bind to the LDL receptors (LDLR) found on the liver; however, the affinity for the LDLR is very low. This suggests that the half-life of LDL in the blood is much longer than IDL and VLDL.
LDL is the source of cholesterol in the body; when it is present in high amounts (levels in the blood are high), then LDL becomes a problem.