Lipoproteins are composed of an outer water-soluble surface and an inner water-insoluble core. The outer portion comprises of phospholipids, protein, and cholesterol, with triglycerides and cholesterol ester forming the core.
The specific proteins associated with lipoproteins are called apolipoproteins (five major classes, A-E). The surface proteins enable the lipoproteins to interact with other membranes such as those lining blood vessels [11].
Apolipoproteins also serve as enzyme cofactors, receptor ligands, and lipid transfer carriers that regulate the metabolism of lipoproteins and their uptake in tissues [11].
Comparison of Cholesterol Versus Cholesterol Ester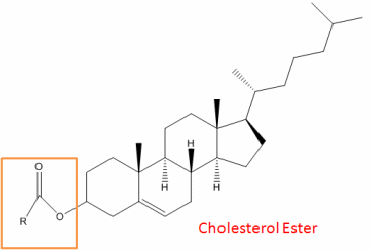 Cholesterol contains a hydroxyl group (alcohol), whereas a cholesterol ester has an ester group.
This means that the cholesterol ester is much more hydrophobic than cholesterol.