After initial infection, hepatitis B virus DNA, hepatitis B c-antigen, hepatitis B s-antigen, and hepatitis B e-antigen are detectable in the bloodstream. If you are unfamiliar with the term antigen, it is a component of the virus (or any pathogen), such as a particular protein it possesses, that can be detected by an antibody produced in the person's body and cause an immune response against the antigen. The term antibody refers to a complex protein produced by cells of the immune system, such as B lymphocytes (B Cells), that attach to antigens and allow for their uptake and destruction.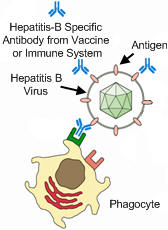 If the person's immune system is able to destroy the virus, HB antibodies can be detected one to six weeks following the infection. Half of all people infected with HBV experience no symptoms. However, some people may experience: Jaundice (yellowing of the skin), loss of appetite, fatigue, and weakness within the first six months of exposure.
HBV can eventually causes cirrhosis (liver scaring), leading to liver cancer called hepatocellular carcinoma, and other severe complications (6).